Construction, Infrastructure & Building Environments Security
Get in touch with us for personalised Construction, Infrastructure & Building Environments Security solutions.
Our Mission
To provide the highest quality Construction, Infrastructure & Building Environments Security Services.
OUR NATIONAL PRESENCE
National Presence, Local Service
Our Construction Services expand across every State and Territory in the Country. We cater to clients within all industries, and of all sizes, ensuring they are all provided with the same first-class customer service.
OUR TECHNOLOGY
Backed By Advanced, Real-Time Technology
Each guard is monitored by GPS real-time technology, so clients, as well as our management team, can monitor and alter guard positions throughout the entire day.
OUR SOLUTIONS
Tailored Solutions to Meet Client Needs
The Construction industry may benefit from an integrated service delivery model, where each client environment is treated individually to determine the best solution.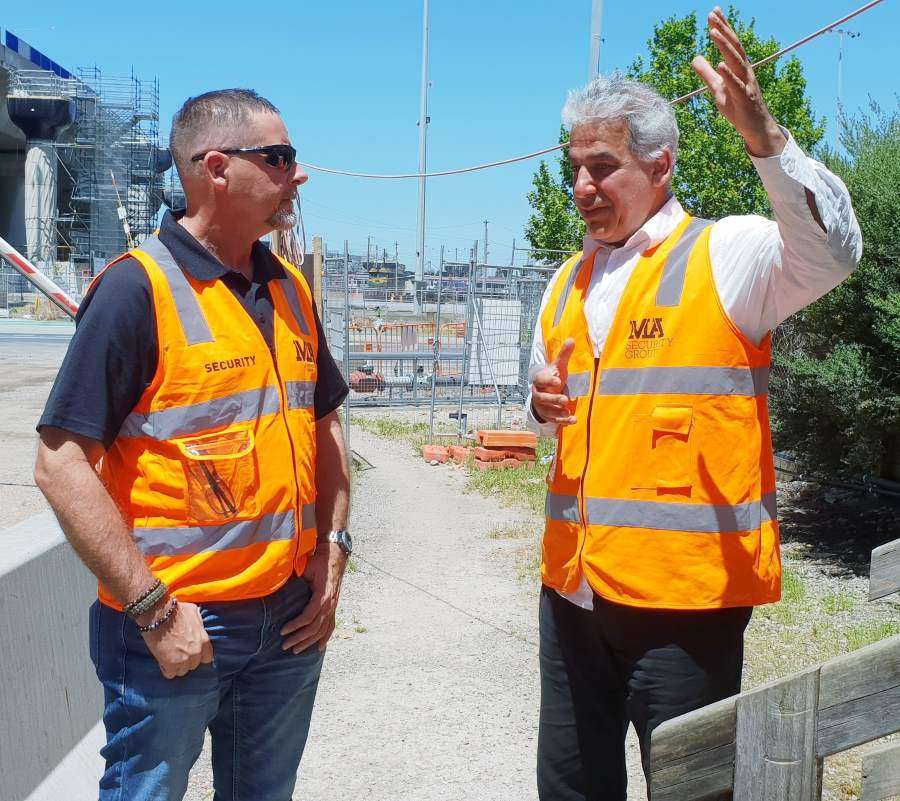 OUR CLIENTS
Trusted by clients across various industries
Our expertise is sought-after in the retail, logistics, healthcare and federal government sectors as well as many other. This diversity reflects our adaptability and commitment to providing tailored solutions to a wide spectrum of enterprises and organisations.
Our Expertise
Our Construction, Infrastructure & Building Environments Security Services

We provide a complete suite of security services for the Construction, Infrastruction and Building Environments sectors.
Access Control / Contractor / Visitor Inductions
Drug And Alcohol Testing
Speed And Traffic Management
Warehouse Operations
Vehicle Compliance
Vehicle Escorts
Key Control
Site Evacuation
Perimeter Checks
Incident Reporting and Logging
Dedicated Recruitment and Training For Each Sector
Emergency Response
Our Approach to a Seamless Construction, Infrastructure & Building Environments Service Delivery
All sites are monitored by our 24-Hour National Control Room and our Rapid Response Mobile Patrol cars can patrol sites believed to be under threat at any time. All clients receive full end-of-shift reports, direct from our TrackTik App and are vetted by our roving Mobile Patrol Supervisors.
Before posting we ensure all our guards are equipped with:
Current Security Licence.
Rail Industry Worker (RIW) card, where required.
Construction Induction White Card.
Level II First Aid Certificate.
Full project induction, encompassing completing site-specific training.
Appropriate mobile communication devices.
Work Health Safety policies and procedures including Safe Work Methods Statements (SWMS).
Environment and Sustainability training.
Written Post Orders and Daily Task Sheets via our TrackTik App.
Traffic Controllers Certificate, if required.
Received full PPE kit including Orange High Visibility Vest, White hard Hat, Hard Hat Liners, Hard Hat Lamps (head torches), Long Sleeved MA Services Group shirts, safety goggles, dust masks, safety boots, site radios and body cameras (if required by site).
A list of Key Contacts and Escalation Procedures.
We prioritise a positive safety culture across the entire business and are committed to the continuous improvement of our occupational health and safety standards.
Our clients range from John Holland Group, CPB Contractors, Lendlease, McConnel Dowell to BMD Constructions and WBHO Infrastructure. Additionally, we service commercial construction contractors such as Kane Constructions, Probuild Cenvic Constructions, The Better Living Group, ArchiBuilt, PDG Group, SignCraft, Coffey Geotechnics and Style Builders Homes.
Projects we have successfully completed or are currently servicing include:
Ringwood Railway Station & Bus Interchange Ravenhall Prison
Caulfield To Dandenong (Level Crossing Removal) Mernda Rail Extension
Monash Freeway Extension (Western Distributor) West Gate Tunnel (Western Distributor Phase 2) Melton Highway Removal
Airport Drive Extension
Southern Program Alliance (Level Crossing Removal) Western Program Alliance (Level Crossing Removal) North West Alliance
Gawler Rail Electrification Western Roads Upgrade
Westconnex Tunnel Project (M4 Western Motorway)